Tephrabase: A Tephrochronological Database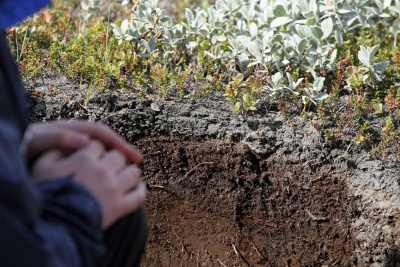 Tephra (volcanic ash) layers are now an invaluable tool in palaeoenvironmental studies, as well a record of volcanic activity. The data produced by such research can be difficult to handle and disseminate. Tephrabase is a database of tephra layers found in Iceland, north-west and northern Europe, Russia and central Mexico. Details on the location, name, age and geochemistry of tephra layers are stored in the database, as well as information about relevant volcanoes and volcanic systems. A comprehensive reference database is also included. A Laacher See supplementary data collection is also included.
We have also added a feature that enables the automatic creation of tephrostratigraphic profiles and calculations of sediment accumulation rates for 200 soil profiles in Iceland.
The data stored in Tephrabase can be broadly divided into five main categories. As Tephrabase develops these will change and it is hoped that connections can also be made to other online systems.
Latest Updates
The NSF-funded DataARC project is an interdisciplinary effort aimed at linking data from archaeology, paleoenvironment, paleoclimate, and the humanities to more easily address questions on the long-term human ecodynamics of the North Atlantic and beyond. DataARCH builds on the pilot cyberNABO project. Pulling in professionals from informatics, data visualization, and the data creators themselves, DataARC is ambitiously creating a data infrastructure and digital tool that will allow scientists to more easily discover, access, link, and understand these data to enable interdisciplinary research, largely building off intensive research performed by the North Atlantic Biocultural Organization. Data from Tephrabase will be integrated into this project. [March 2017]
Postglacial sea-level in NW Iceland
The Saksunarvatn tephra (now known to be more than one eruption) was used to help date sediment cores taken from isolation basin in NW Iceland. These cores were used to construct relative sea-level curves and can be found in: Brader, M.D., Lloyd, J.M., Barlow, N.L.M., Norðdahl, H., Bentley, M.J. and Newton, A.J. (2017) Postglacial relative sea-level changes in northwest Iceland: Evidence from isolation basins, coastal lowlands and raised shorelines. Quaternary Science Reviews 169, 114-130 (doi:10.1016/j.quascirev.2017.05.022). The tephra data from this paper is now in Tephrabase. [July 2017]
Long-term carbon balance in blanket bogs
Tephrochronology was used to help quantify Holocene carbon accumulation rates in the Flow Country Scotland. In particular, Hekla 4 and Glen Garry tephras (now in Tephrabase) were utilised, alongside radiocarbon dating. Further details can be found in Ratcliffe, J., Andersen, R., Anderson, R., Newton, A., Campbell, D., Mauquoy, D. and Payne, R. (2017) Contemporary carbon fluxes do not reflect the long-term carbon balance for an Atlantic blanket bog. The Holocene DOI:10.1177/0959683617715689 [July 2017]
Hekla 1510 and Hekla 1947
Tephra from the 1510 and 1947 eruptions of Hekla have been found in the west of Scotland and this data is now available in Tephrabase. Housley, RA, Blockley, SPE, Matthews, IP, MacLeod, A, Lowe, JJ, Ramsay, S, Miller, JJ and Campbell, EN (2010) Late Holocene vegetation and palaeoenvironmental history of the Dunadd area, Argyll, Scotland: chronology of events. Journal of Archaeological Science 37, 577-593. [February 2017]
Glen Garry Tephra in Scotland
Data from the 2008 paper on the Glen Garry Tephra in Scotland is now in Tephrabase. This paper contains radiocarbon dating for the Glen Garry Tephra from sites in England and Scotland. Barber, K., Langdon, P. and Blundell, A. (2008) Dating the Glen Garry tephra: a widespread late-Holocene marker horizon in the peatlands of northern Britain. Holocene 18, 31-43. [February 2017]

Donate Data to Tephrabase
In order to help people donate data to Tephrabase, I have created a Word file (form) or PDF file which contain details about the data required. Please download either of the files and either fill in the form or use them to help you include all the information required. Any comments or questions welcome. Please email any data to me, anthony.newton@ed.ac.uk. I intend to create a more flexible online system in the future.