Tephrabase: Mapping and Tephrostratigraphy
Tephrabase has always had a mapping functionality and all sites held in the database can be displayed on maps. All geographic searches display the location of sites and separate maps are available for Icelandic tephra sites in Europe, Laacher See tephra sites and central Mexican sites. Whilst the simple displaying of locations is useful, we are developing more complex GIS-like mapping and stratigraphic drawing features. As these are finished they will be made available on this page.
Tephramap
Individual maps showing the location of all the tephra sites in Europe and Mexico are available. Spatial searches allow the location of all sites where a particular tephra layers has been found to be displayed.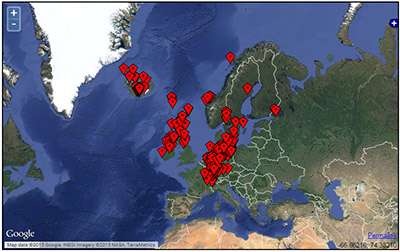 Tephrabase Tephrostratigraphy
We are also developed new tools which allow for the automatic creation of tephrostratigraphic columns of up to 5 profiles and calculation of sediment accumulation rates, a proxy for soil erosion in Iceland. These tools are available here.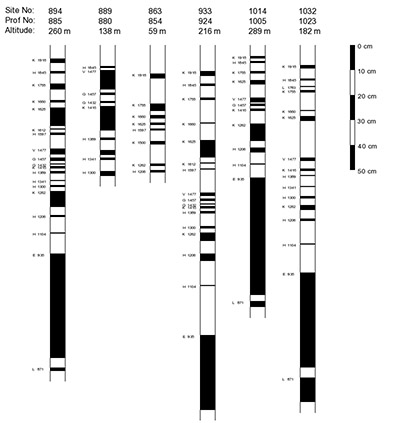 Tephramap Background
From the start Tephrabase has included a mapping feature. In 1995, when Tephrabase was launched, we originally used the XeroxPARC Map Viewer for displaying the locations of sites. This early web mapping service was discontinued in the early 2000s. For several years Google Maps was the means of showing locations. Tephrabase now uses OpenLayers as its main mapping system, through which a variety of basemaps are available including Google and OpenStreetMaps. A variety of satellite images and maps are therefore available.. For example, if you search for all the sites where Hekla 4 is found, a location map will be produced along with the other information.